Monte Carlo Simulation of 2D Ising Model
---
Introduction
During my first year PhD at UC, I get the chance to take statistical mechanics class from a condensed matter physicist. It was a new experience when he focused too much on different side that I did not explore before. The final project in this class was about using Monte-Carlo method to simulate the Ising model. Ising model is a model of a system that undergoes a phase transition. There are many reasons why this model is interesting when it is not representing any actual physical systems.
It can be solved exactly, We can calculate the thermodynamical quantities and interpret them. In another can calculate the partition function and put it in an exact form.
Ising model exhibits symmetry breaking in low-temperature phase.
It is a simple model that can be used to understand the physics of phase transition.
The Ising model is simple, yet it can be applied to many physical systems. This gives us a feature about universality, a feature that tells us that in such case the same theory applies to all sorts of different phase transitions.
The Ising Model
We can think of Ising model as a mathematical model where everything consists of small squares inside a bigger one. It is usually called lattices where we then have a big lattice of sites (small boxes) where each site can be in one of two states. Those states as we will see will refer to the spin state of the electron inside this site. Each site will be labeled by index ii. The Hamiltonian for the Ising model can be written as
---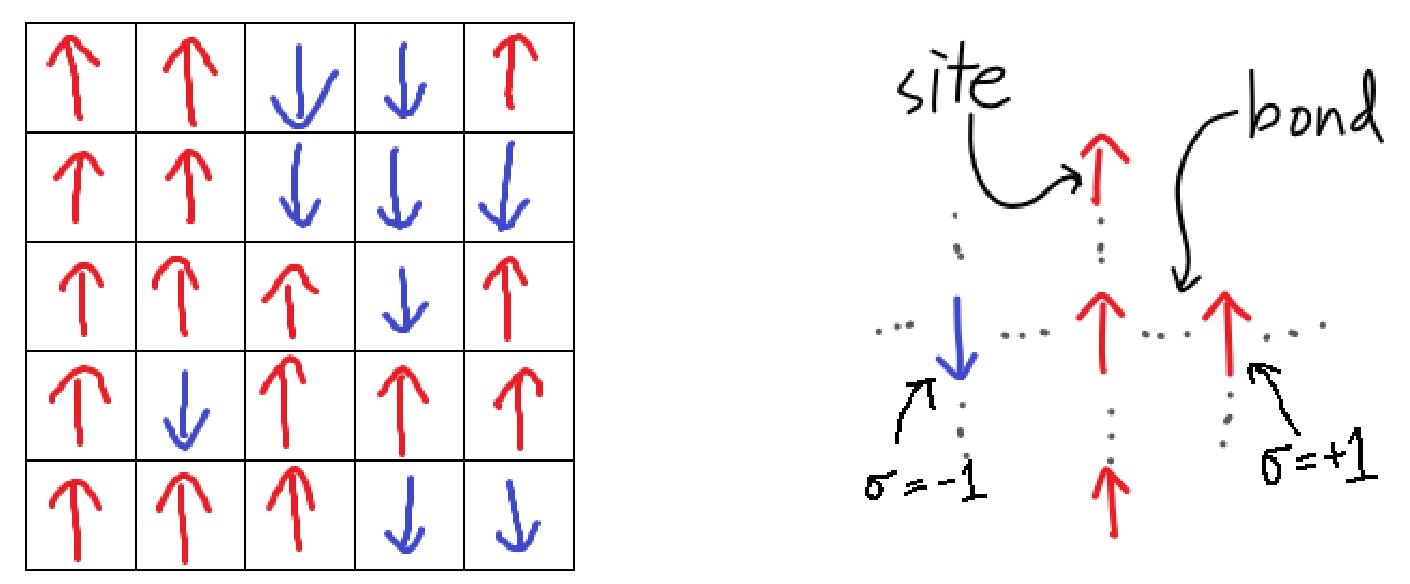 Spin has value of +1 or -1.
implying that we are interested in nearest-neighbor interaction only.
is the interaction strength where ( J>0 ) assuming that strength is positive.
There are many systems that can be represented using this model like "lattice gas" with each of the sites is the possible location of a particle; means that site is empty and means that site is occupied by a particle.
This system will undergo a 2nd order phase transition at some temperature which is called critical temperature. For cases when , the system magnetizes, and the state is called the ferromagnetic state which is an ordered state. For cases when ​, the system is disordered or in a paramagnetic state. We can define the order parameter for this system to be the average magnetization .